The Dingle Peninsula is an Irish coastal destination that stretches 30 miles (48 kilometres) into the Atlantic Ocean on the southwest coast. The range of mountains stands out in the peninsula, running from the Slieve Mish range to the Conor Pass and Mount Brandon, the second-highest peak in Ireland. The magnificent coastline consists of steep sea-cliffs such as Slea Head, dramatic headlands broken by sandy beaches, with the award-winning beach at Inch in the south and the tombolo of Maharees to the north (Dingle Peninsula Tourism Alliance n.d.). The Dingle Peninsula is considered a national treasure due to its stunning beauty and its residents are proud of their local area. Some elements combine to create the magic of the destination, Dingle remains one of Ireland's largest Gaeltacht communities, so tourists can enjoy the richness of the spoken Irish language and traditional music. Moreover, across the Dingle Peninsula exists the most incredible landscape, untouched and unspoiled by the passage of time. These elements contribute to creating a unique character, which makes Dingle a destination recognised globally as a gem and a must-visit destination for the Irish diaspora living in the United States of America (Fáilte Ireland 2021).
'However, tourists tend to spend little time and little money there and only key pockets benefit. This can be seen in the many coaches and vehicles that bring traffic, without delivering much value to the area. Dingle town is considered a hot spot due to its strong tourism infrastructure, dominating the other villages which do not benefit and are not developed to the same extent. This imbalance also extends to seasonality. While Dingle town is perceived to enjoy a nine-month visitor season, smaller communities in the region only benefit for three months each year' (Lucey 2021). This has led the tourism stakeholders to undertake innovation to develop the peninsula more evenly by working and promoting the whole Dingle peninsula.
Innovation is relevant because it enables the improvement or creation of visitor experiences that enhance destination competitiveness (Gardiner and Scott 2018). Moreover, innovation appears as a way to respond to the competitive environment, economic crisis and climate change that destinations have to overcome (Williams 2014). Despite the importance of coastal destinations, research on how innovation can contribute to the tourism development of coastal destinations is very scarce. Coastal tourism is considered vital for a wide range of coastal regions in the European Union and there is a challenge to increase the economic benefits to destinations and their communities (Ecorys 2013). Structural innovation is a contribution to the types of innovation in tourism, it is defined as 'the implementation of a new or significantly improved collaborative or regulatory structure, network or initiative to maximise overall benefits to the local economy, community or destination. Such activities extend beyond the boundaries of a firm or an institution' (Booyens and Rogerson 2016, p.521).
The Dingle Peninsula Tourism Alliance is an example of innovation for the development and promotion of a region with different levels of seasonality, where smaller and individual efforts of smaller villages were replaced by an umbrella tourism group that represents the whole peninsula; that works together to encourage tourists to come to Dingle and increase their length of stay by visiting Dingle town and the surrounding villages of the peninsula. 'Dingle Peninsula Tourism Alliance is a voluntary not-for-profit organisation, dedicated to the development and promotion of tourism on the Dingle Peninsula. It was created as the umbrella tourism promotion and development vehicle for all towns, villages and parishes on the Dingle Peninsula. It is run by a committee and represents a cross-section of the area's businesses, communities and committees on the Dingle Peninsula including self-employed people and employees in a range of tourism and non-tourism businesses. It provides an inclusive approach to every group operating on the Dingle Peninsula both, directly and indirectly, involved in tourism. It collectively represents over 180 member businesses across the Peninsula and promotes every village from Derrymore on the North Shore, west to the Blasket Islands and east to Castlemaine on the southern side. Its main objectives include increasing visitor numbers in winter and shoulder periods, increasing visitor dwell time and the dispersal of visitors across the Peninsula, in turn increasing the number of year-round jobs for the region' (Comharchumann Forbartha an Leith Triúigh Teo n.d.).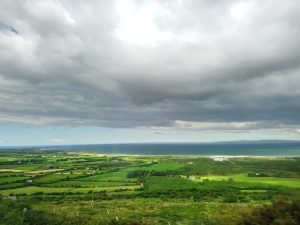 Dundalk Institute of Technology.
Photos: David Nacipucha
References
Booyens, I. and Rogerson, C.M. 2016. Tourism Innovation in the Global South: Evidence from the Western Cape, South Africa. International Journal of Tourism Research 18, pp. 515–524. doi: 10.1002/jtr.2071.
Comharchumann Forbartha an Leith Triúigh Teo. [no date]. Available at: https://www.cflt.ie/comhaontas-turasoireachta-chorca-dhuibhne-dingle-peninsula-tourism-alliance/ [Accessed: 30 November 2022].
Ecorys 2013. Study in Support of Policy measures for maritime and coastal tourism at EU level. Rotterdam.
Fáilte Ireland 2021. Dingle Peninsula Visitor Experience Development Plan. Available at: https://www.failteireland.ie/Regional-experience-brands/Wild-Atlantic-Way/Wild-Atlantic-Way-experience-development/Dingle.aspx [Accessed: 30 May 2021].
Gardiner, S. and Scott, N. 2018. Destination Innovation Matrix: A framework for new tourism experience and market development. Journal of Destination Marketing & Management 10, pp. 122–131.
Lucey, A. 2021. Dingle 'at a crossroads' as tourism benefits fail to trickle down locally. Independent 16 January. Available at: https://www.independent.ie/irish-news/dingle-at-a-crossroads-as-tourism-benefits-fail-to-trickle-down-locally-39974502.html [Accessed: 30 November 2022].
Dingle Peninsula Tourism Alliance. [no date]. Available at: https://dingle-peninsula.ie/ [Accessed: 30 November 2022].
Williams, A.M. 2014. Tourism innovation products, processes, and people. In: Lew, A., Hall, C. M., and Williams, A. eds. The Wiley Backwell companion to Tourism. Chichester: Wiley-Blackwell, pp. 168–178.